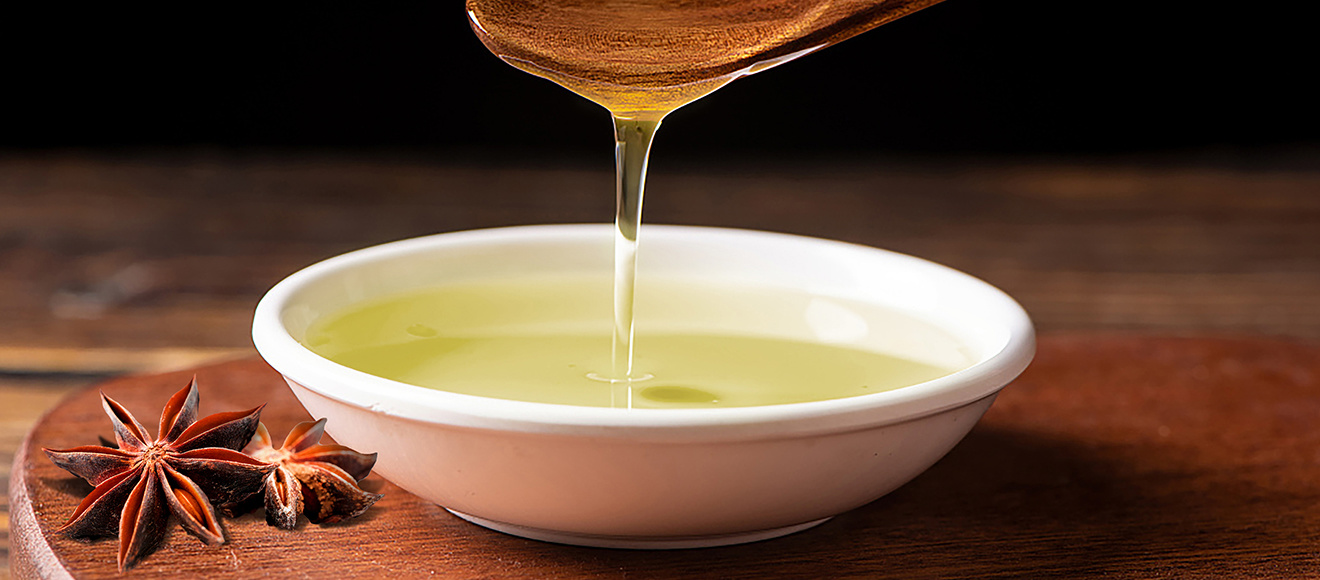 【Color】colorless to light yellow, clear liquid.
【Technique Characteristics】Obtained by steam distillation of the fruit, leaves of star anise.
【Applications】
1. The fragrant raw materials of salty flavor;
2. Daily Use Chemical Essence;
3. Tobacco and alcohol;
4. Cooked meat products, convenience foods, compound condiment, etc
【Dosage】Add according to the characteristics of the production process. Suggest dosage: Salty flavor 0.1~1.0% ; Daily Use Chemical Essence0.02~0.1%;Cookedmeat products 0.01~0.02%; Convenience foods 0.01~0.02%; Compound condiment 0.05~0.1%.
【Standard】GB 1886.140 Star anise oil.
【Packing】1Kg、5Kg Fluorinated plastic barrel, 20Kg Steel-plastic composite barrel.
【Expiration Date】Store in a dark, ventilated warehouse in a dark, ventilated warehouse.
【Quality Index】
| | |
| --- | --- |
| Project | Index |
| Refractivity (20 ℃) | 1.5525~1.5600 |
| Optical Rotation (20 ℃), ° | -2~+2 |
| Specific Gravity (20 ℃/20 ℃) | 0.975~0.992 |
| Freezing point, ℃ | ≥15 |
| Solubility (20 ℃) | 1 volume of sample is mixed and dissolved in 3 volumes of 90%(volume fraction) ethanol, which is a clear solution |
| Characteristic component content, w/% | Artemisia draconis ≤ 5.0; Cis-anisole ≤ 0.5; anisaldehyde ≤ 0.5; Trans anisole ≥ 87.0 |
Buy now ●